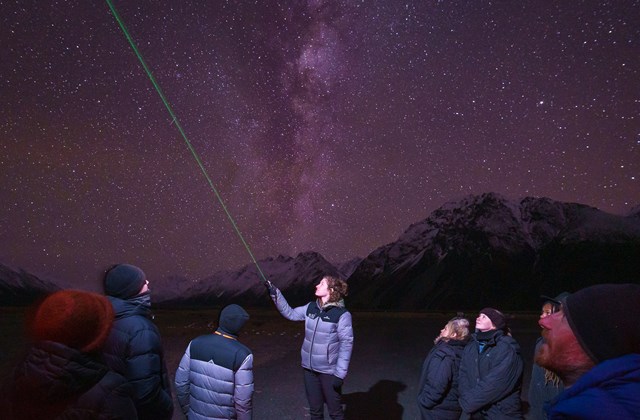 FIVE ACTIVITIES TO DO IN AORAKI/MOUNT COOK IN WINTER
It is always a great time of year to visit Aoraki/Mount Cook National Park. Located halfway between Christchurch & Queenstown, this great Southern Alps road trip is a journey of wonderment in itself as the mountain range snakes alongside you, preparing you for a sneak peak of Aoraki himself. Each season transforms the magical landscape, however none more so than the months of June – August when the snow is much more substantial than a brief dusting on mountain peaks, transforming the National Park into a winter wonderland.
So, we know it's a beautiful time to visit, but what is there to do whilst visiting during the winter months? We've put together a list of "Five things to do in Aoraki/Mount Cook in winter" to help you plan and make the most out of your stay at the Hermitage, Aoraki/Mount Cook.
Explore the night sky, with Big Sky Stargazing
Did you know Aoraki/Mount Cook is located in the world's largest gold status dark sky reserve? Stargazing is an incredible activity to partake in whilst visiting the area, and you can book onto a Big Sky Stargazing experience whilst at the Hermitage Hotel. This 90-minute tour is presented by resident astronomers who will share interesting facts and stories in a fun and easy to understand way, as they guide you through the night skies with powerful telescopes. Winter means shorter days and darker skies, which means smaller group numbers and earlier tour times (giving you more time to curl up in bed!)
Adult prices for Big Sky Stargazing are $99 and include transport to stars base, warm jackets, sweet treats and (for a limited time) a complimentary digital photo of you and your group under the night sky. Book here.
Visit the Sir Edmund Hillary Alpine Centre Planetarium
Enjoy a stargazing experience from the comfort of your own seat with a trip to the Hermitage's planetarium. See the night sky like never before and learn something new with a 45-minute tour with the Hermitage's resident astronomers. This experience is perfect for families with young children or for those who would rather stay in the warm! The Galactic Journey tour is available daily and the planetarium also puts on a Space Explorers show throughout the school holidays which is suitable for a younger audience.
You can purchase a family pass consisting of 2 adults & 2 children for only $75. More than 2 children? Contact the activities team who will be able to accommodate and look after you.
Take an educational trip to the cinema & the DOC visitor centre
The planetarium at the Hermitage Hotel also doubles up as a bespoke 126 seat theatre that has a jam-packed schedule of educational and inspiring films about the region. The schedule includes a fantastic film about local hero and kiwi legend, Sir Edmund Hillary. The hour-long film covers Hillary's phenomenal achievements such as climbing Aoraki/Mount Cook and becoming the first person to summit Mount Everest. It's a fantastic film, and well worth a watch. The theatre price includes free entry to the Sir Edmund Hillary Museum, so make sure you've got enough time to visit both. The Department of Conservation Visitor Centre is a five minute walk away from the Hermitage Hotel and is arguably one of the best visitor centres in the country. You can easily spend a day buffing up on the history and geography of this impressive region. It's a perfect activity for frostier days spent in the National Park!
Tickets to the Sir Edmund Hillary Alpine Centre Theatre & Museum cost $20 for adults and $10 for children. For those staying at the Hermitage Hotel, this ticket is valid for the duration of your stay.
Discover Hooker Valley track
Winter is a stunning time to get out and about in the National Park. ThE 10km track (5km in and 5km out) Hooker Valley Track is arguably one of the best day hikes in New Zealand. It has approachable terrain, is relatively flat and provides spectacular views of both Aoraki and of the Hooker Valley Lake – icebergs and all! You are in an alpine environment, and therefore we do advise everyone to check in on conditions at the Department of Conversation Visitor Centre and to always be prepared. There are areas that get icy, so please be careful, always let someone know what your hiking intentions are and plan ahead.
Please click here for our Hooker Valley video, despite it being filmed in summer, it's a great, general guide for what you can expect to see on the walk.
Have a mountain adventure!
We're located in the heart of nature's winter playground and for those who are looking to have a serious amount of fun, there are mountain adventures to be had. For those who are confident on a pair of skis or snowboard, there are several companies in the region that offer various heli-skiing packages. If you're not comfortable hurling down a mountain, there are also opportunities for scenic flights with glacier landings, picnic experiences and even heli hiking. Our team at the hotel are well equipped to make recommendations for you, otherwise we encourage you to book ahead to avoid disappointments!
You can find out more information about adventure activities in Aoraki/Mount Cook here.
Aoraki/Mount Cook is a beautiful place to visit and there's an abundance of things to do, whatever the season! Keen to find out more about the National Park in the winter, or what the Hermitage Hotel offers? Get in touch with our Reservations team who will be delighted to assist you.