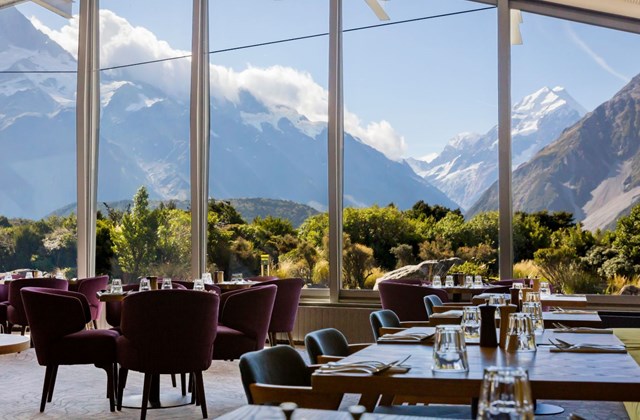 Our team use fresh and local ingredients to produce seasonal menus rich in flavour with stunning alpine vistas to match.
Great food with stunning views
Come and 
enjoy arguably the most impressive views from any restaurant in New Zealand. 
Open daily 5.00pm - 9.00pm in spring
Adult $79, Children (4 - 14 years) $29.50
Our menu is an ever evolving contemporary blend of locally sourced produce, and is catered to all dietary preferences. 
Menu items are subject to change and are based upon availability. However, we hope this gives you a good taste of what our buffet experience has to offer.
Antipasti
Vegetable Platter
Grilled vegetable platter (GF, VG))
Whitestone cheese
Windsor Blue, Livingstone Gold, Harvarti, Brie
Charcuterie
Pork & fennel salami, spiced beef salami, peppered pastrami (DF)
Served with an assortment of crackers, chutneys and relish
Salads
Garden potato and herb salad with creamy mayonnaise (V, DF)
Maple roasted beetroot salad with celery, fresh pear and baby spinach, balsamic & walnuts (VG, GF)
Coleslaw salad with fresh herbs (VG, GF)
Greek salad (GF, VG)
Caesar Salad with smoked chicken, bacon bits, shaved parmesan,feta, egg, croutons and Caesar dressing
Make your own salad with a selection of fresh salad greens, vegetables, nuts, dressings and an assortment of other salad ingredients
Seafood
Aoraki/Mount Cook salmon platters including hot smoked pieces, cold smoked slices & house cured gravlax (GF, DF)
Catlins Coast Queen scallops,
Thai marinated pink prawns,
Otago little neck clams
Marlborough green shell mussels (DF, GF)
Calamari salad with coconut lime dressing, cucumber, cherry tomato & fresh coriander (GF, DF)
SOUP
Soup of the day served with freshly baked breads & butter
Mains
Aged beef striploin with port wine jus & horseradish (GF, DF)
Canterbury lamb rump with mint sauce & Gravy (GF, DF)
Thai chicken curry with fresh herb (GF
Baby back pork ribs in Texan style BBQ sauce
Oven baked Aoraki Mt Cook salmon with lemon & fresh herbs
On the side
Roast potatoes with herbs (VG, GF)
Maple glazed kumara (VG, GF)
Roasted root vegetable medley (VG, GF)
Steamed market vegetables with olive oil & flaky salt (VG, GF)
Cumin scented basmati rice (VG, GF)
Chickpea & lentil curry with organic mung beans and tofu (VG, GF)
Chefs daily creation pasta dish (V)
Cauliflower gratin (V)
Canterbury mushroom, leek & pine nut Wellington (V)
Ratatouille vegetables (VG, GF)
Salt n Pepper fish bites & French fries
Pastry & dessert
Individual Tiramisu with espresso & bitter chocolate
Coconut & mango pannacotta (with toasted coconut VG, GF)
Pavlova topped with whipped cream & fresh fruits (GF)
Chocolate vegan snickers bar (VG, GF)
Cheesecake with strawberry topping
Opera cake with chocolate decorations
Raspberry lamingtons with cream
Assorted mini bites
Warm peach pudding with vanilla custard
Create your own soft serve ice cream sundae with sprinkles, assorted sweets, chocolate & berry sauces
Please click here for other dining options available.