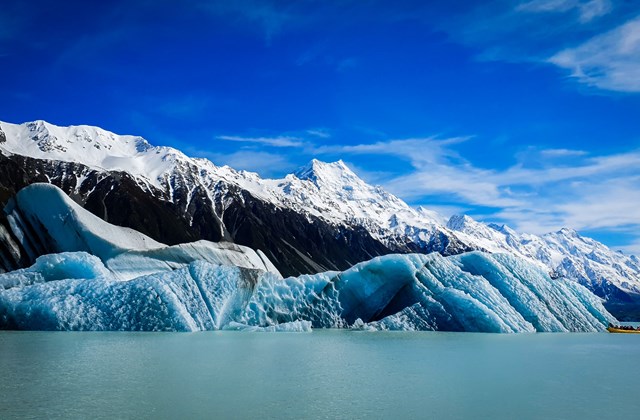 The ultimate ice adventure in Aoraki/Mount Cook
Adults (aged 15+) from $179 and Children (ages 4-14) from $79
8.00am, 9.45am, 11.30am, 1.15pm, 3.00pm & 4.45pm (current seasonal departures)
Only Glacial Boat tour in NZ
Please note minimum numbers may apply
Fully Refundable if cancelled due to weather
Family pass available (2AD + 2CH) from $449. Please call to book.
Guests must be fit and able to walk the 1.5km to / from the lake edge in 25 mins.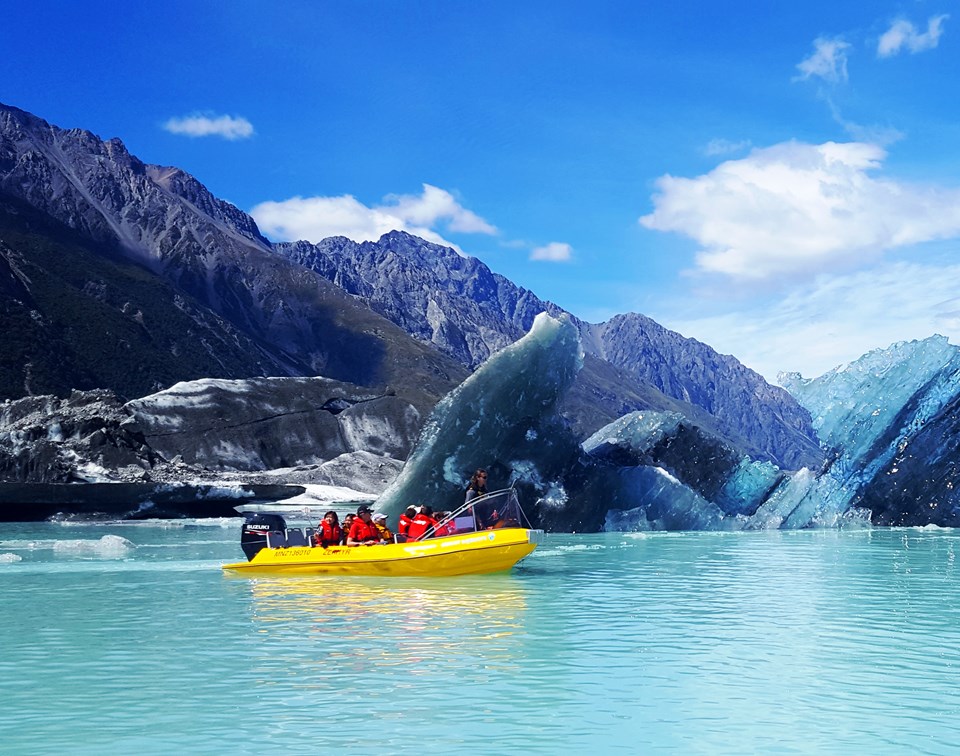 Glacier Explorers is the only tour of its kind in New Zealand, and it's based right here, in Aoraki/Mount Cook National Park.
Cruise around the Tasman Glacial Lake in one of our boats and experience the enormity of NZ's largest glacier as you weave in and out of floating icebergs. It's a surreal and mesmerising experience in a totally unique environment. No two days are the same on the Tasman Lake with a constant shifting of conditions, which simply adds to the magic of this very special place.
Our tours are designed to both thrill and educate as you learn about the ever-changing glacial landscape. Icebergs of every shape and size periodically tear away from the face of the glacier into the rapidly growing lake. It's difficult to predict when a calving will take place but it's possible you will witness one whilst you're on a tour – it's really quite spectacular. A trip on Glacier Explorers is a unique opportunity to truly feel small as the lateral moraines, which are sharp-crested piles of glacially transported rocks and debris that are dropped by the ice as it melts, rear up almost 200m. The lateral moraines remind us of the grand scale that the glacier has reached in previous times.
With the effects of climate change and other climatic processes taking their toll on New Zealand glaciers, their retreat is sadly imminent. The Tasman Glacier is now approximately 23/23.5km long and 600m deep (at its deepest point) and is both melting and calving at a staggering rate.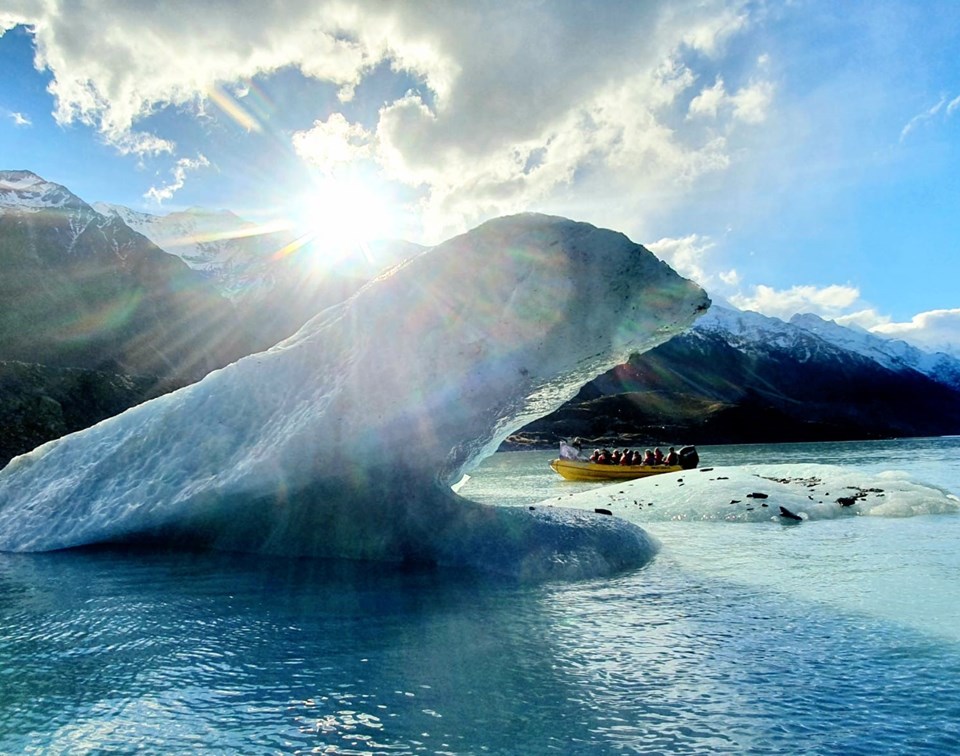 It's an incredible experience for everyone.
Check in for your Glacier Explorers trip at the Activities Centre, which is located on the ground floor of the Hermitage Hotel.
The group will then bus out to the Tasman Valley, a short drive away from Mount Cook village.
Once you arrive at the Blue Lakes carpark there's a 1.5km/25 minute alpine walk through the National Park.
Guests will then board the Glacier Explorers boat from the Tasman Lake jetty.
The whole trip is approximately 3 hours, and you can expect to spend approximately one hour on the lake.
Daily departures are available throughout the season (subject to appropriate weather, daylight and lake conditions)
What is Supplied:
Return transport
Life jackets
Experienced guides
An unforgettable experience
What to Bring:
An extra warm layer of clothing
Camera
Sunblock & sunglasses
Wet weather gear
Suitable walking shoes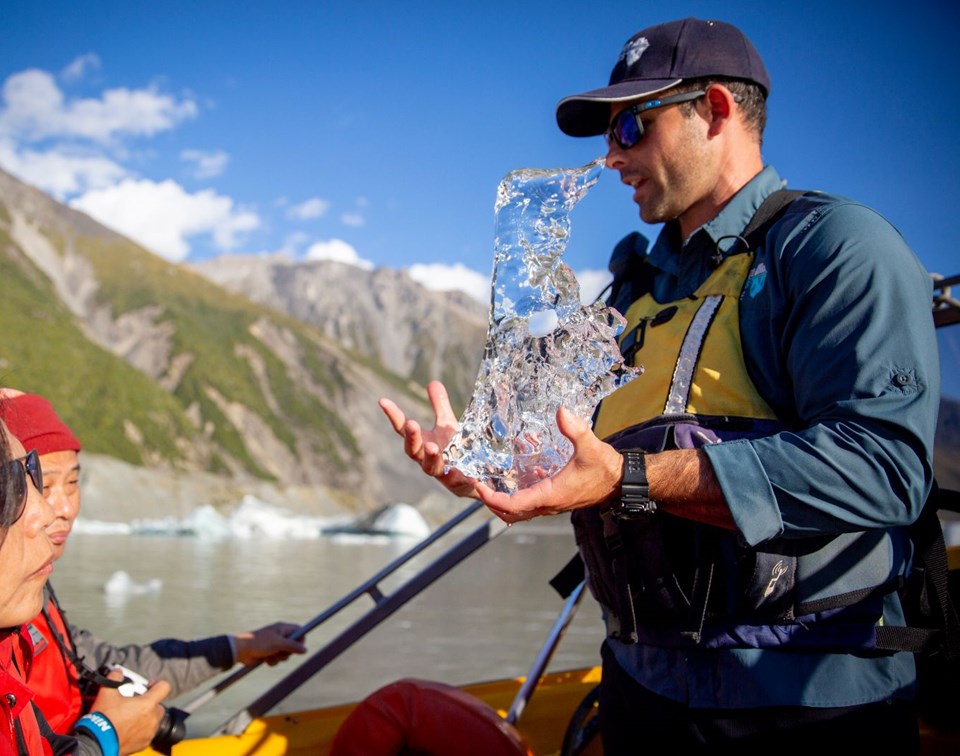 Weather Conditions:
Glacier Explorers operates in a unique, alpine environment. In the event of unfavourable weather conditions the tour may be cancelled. This decision is made by the Glacier Explorers Head Guide just before each trip based on weather and lake conditions. An alternative trip time or full refund is offered under such circumstances.
Please be aware that icebergs on the lake occur as a result of glacial calving activity. As this is a natural occurrence, at times the glacier is not as active meaning the quantity and size of icebergs on the lake vary. Icebergs, calvings and rollovers cannot be guaranteed, but are a wonderful bonus for passengers lucky enough to experience them.
Kindly note, you can check the weather in the National Park via our live webcam feed here.
Important Note:
Check in at the Activities Desk is required 30 minutes before the scheduled departure time.
Due to high demand, we recommend that you pre-book this activity to avoid disappointment.
Please ensure when booking that all individuals joining the Glacier Explorers trip can walk 1.5km in 25 minutes to ensure the trip can run to schedule.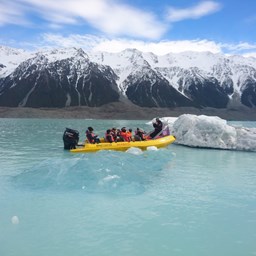 Deidre S
"Excellent tour. Exceeded my expectations. The bus trip down was informative, the walk easy, and the boat ride fun. The boat guide was excellent and taught us so many facts about the icebergs. We got to see and touch the icebergs and then went and viewed the terminal end of the glacier. Absolutely stunning. Never felt rushed and would totally recommend that you do this trip."
chocaholic5
"What an incredible experience getting up close and even touching icebergs! It exceeded my expectations with far more and bigger icebergs than expected and on top of that interesting knowledge provided by the guides! A must do and a taste of Antarctica in NZ"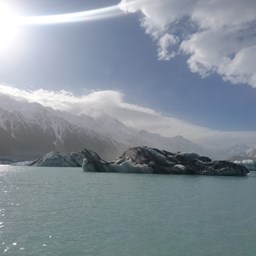 Mark W
"What a great trip - the staff knew their stuff and we had a wonderful time. Amazing to get up close to the icebergs and the boat trip was great fun and highly recommended. I cannot stress too highly what a good opportunity this is to learn about the glacier and also to reflect how quickly it is disappearing. So there was education as well as entertainment and excitement."