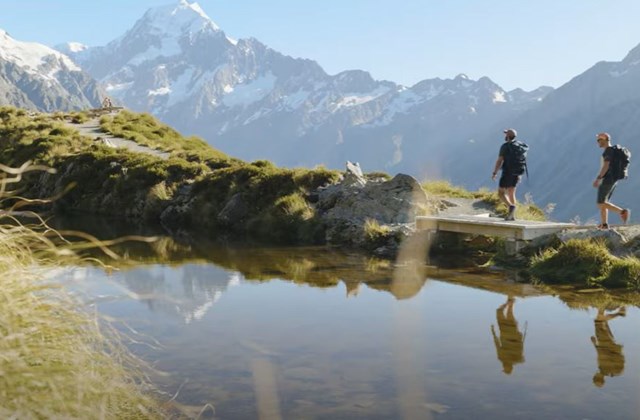 Hiking Sealy Tarns, Aoraki/Mount Cook National Park
Sealy Tarns, this track's nicknamed the 'stairway to heaven' and once you start climbing your way up, you'll understand why.
You can access Sealy Tarns directly from the front of the Hermitage Hotel or by parking up at White Horse Hill campground, walking in the direction of Kea Point before veering off towards the mountains (and that steep looking incline!)
A hike not suitable for the fainthearted, Sealy Tarns is appropriate for those with moderate fitness and willpower! 
Sealy is just shy of 6km long, features 2200 steps with a height gain of 600m, but it is very much worth the climb. The majority of steps are wooden blocks, some are covered in gravel and others are natural rocks, watch your footing and you'll be fine. The hike usually takes around 3-4 hours, depending on personal fitness levels, weather conditions and how much time is spent admiring the views both en route and at the top! There are break opportunities throughout the climb, with beautiful views of the valley below. The best place to catch your breath and cool down though is at the top where the freshwater Sealy Tarns is waiting for you! In addition to the cool, freshwater mountain lake there's also a picnic bench for you to relax on and soak up the views of Aoraki and the National Park surrounding you.
The track is accessible year-round, and even in winter it doesn't collect a large amount of snow. However, the ridge line above it does and therefore it does present avalanche risk. Check in at the DOC centre in the village before hiking to check conditions and to lodge your intention with the team there. Always make sure you pack appropriately, weather in Aoraki/Mount Cook can change incredibly quickly and catch you off guard.
Before you come to the National Park we always suggest doing some research, there are some great local online guides you can read. For you walk make sure you come prepared; bring some water and energising snacks then get right into it, one step at a time.
Tips for hiking Sealy Tarns:
Don't rush, take your time and make sure you enjoy it.
Rushed for time but want to see as much as the National Park as you can? Extend the Sealy Tarns hike and walk all the way up to Mueller Hut. It'll take a further 2-3 hours, but is worth it.
Remember your phone or camera, you won't want to head back down to get it if you leave it in the car!
Check in with the DOC centre in Mount Cook village. They're the experts and provide walkers with excellent advice and recommendations.
Take a backpack, make sure you pack suncream, a rain jacket and lots of nutritious snacks. You can pick up breakfast/lunch/afternoon tea from the Sir Edmund Hillary Café.
Wear decent shoes. It's not advised to hike Sealy Tarns in jandals.
It's an Aoraki/Mount Cook walk not to be missed.