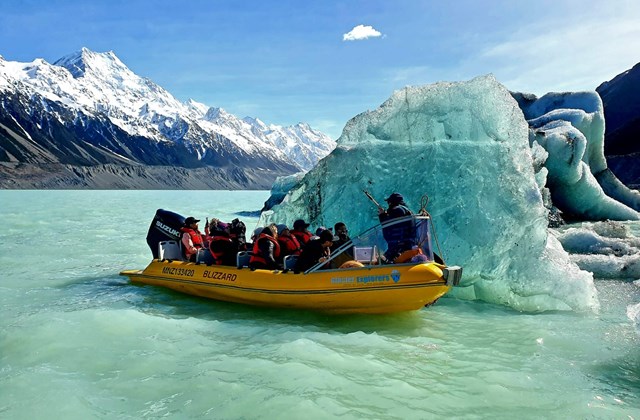 A GLACIER EXPLORER'S EXPERIENCE
"We had no idea we could do this in New Zealand" is something we've heard from kiwi visitors on many occasions over the last few years. As borders were closed and New Zealander's hands were forced for them to 'explore their own backyard', we found that the majority of travellers were completely thrown by the fact that you could get up close and personal to real life icebergs in the South Island of New Zealand. It's true, you don't have to travel to Antarctica or Patagonia to have an ice adventure, and you also don't need to have advanced mountaineering skills, you just need to book a spot on the Glacier Explorers boat tour and be able to walk 1.5kms to the lake and back.
The Tasman Glacier is New Zealand's longest glacier at a striking 23kms long and 800m deep, and it's melting and calving at an exponentially increasing rate. What does calving mean? It's the process where ice chunks break off the end point of the glacier, crashing into the terminus lake. Ultimately, creating an iceberg. You'll only see about 10% of the iceberg from above the water, meaning that some of the strikingly large ones you see on the lake are actually the size of the hotel in its entirety.
Take a moment to process that, it's an overwhelmingly large amount of ice.
The Tasman Glacier has had multiple large calvings over the last couple of years, and the sub minus temperatures we get in winter tends to preserve any existing icebergs during that period. The Glacier Explorers boats can't operate in winter though as not only would it be uncomfortably cold, but the lake usually freezes over, meaning we couldn't operate even if we wanted to! Instead, in July and August our hardworking guides are rewarded with a much-needed break and the boats are helicoptered out of the lake and transported to Ashburton where they undertake maintenance and upgrades.
You'll spend about an hour of the tour on the lake itself. Once briefed and bundled up in your lifejacket with any extra layers, you'll board the Glacier Explorers boat. The tour is a mix of educational commentary and thrilling speed as you zip around the terminal lake, winding through icebergs of every shape and size. You'll stop frequently, to get up close to the iceberg and for your guide to share little nuggets of fascinating information with you. Some of the great feedback we get is that the facts and figures shared are easily digestible, it's not all technical jargon and those with no prior glacial knowledge come away with much more familiarity and awareness. Our guides get you close to the icebergs, safely, and it's fairly common for you to touch the ice, hold some ice, heck, sometimes you can even taste the ice if you want to give it a nibble! It's not unheard of for guests to chuck some of the frozen stuff into their water bottles to drink at a later date or to get it added to a cocktail at the Snowline Bar when they're back at the Hermitage!
Thankfully the borders are now open and we're back to warmly welcoming tourists from all over the globe, we're excited to invite back international tourism – so share the news – you CAN get up close and personal to glaciers and icebergs in New Zealand, right here in Aoraki/Mount Cook National Park.