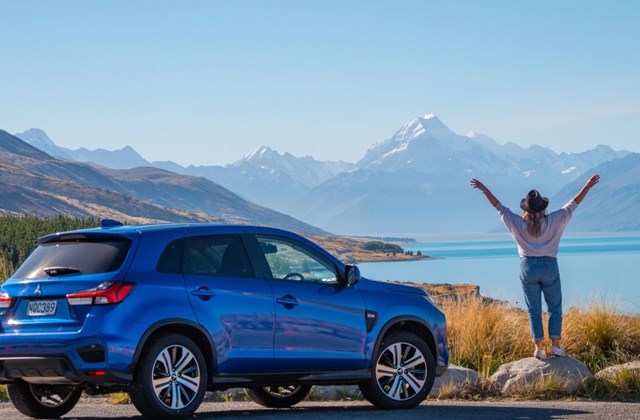 Road trip from Queenstown to Aoraki/Mount Cook
Tourism is back in Aotearoa and we are thrilled that so many travellers are flocking to New Zealand for their holidays. There are so many incredible places to uncover and experiences to seek out, and we know first-hand how difficult it can be to pinpoint exactly where you want to go!
Our tip? Rent a car so you can plan your adventures on your own time, to your own schedule. The added bonus of renting a vehicle is that it opens up locations which might not be as accessible for you otherwise, as many places in New Zealand don't have public transport available.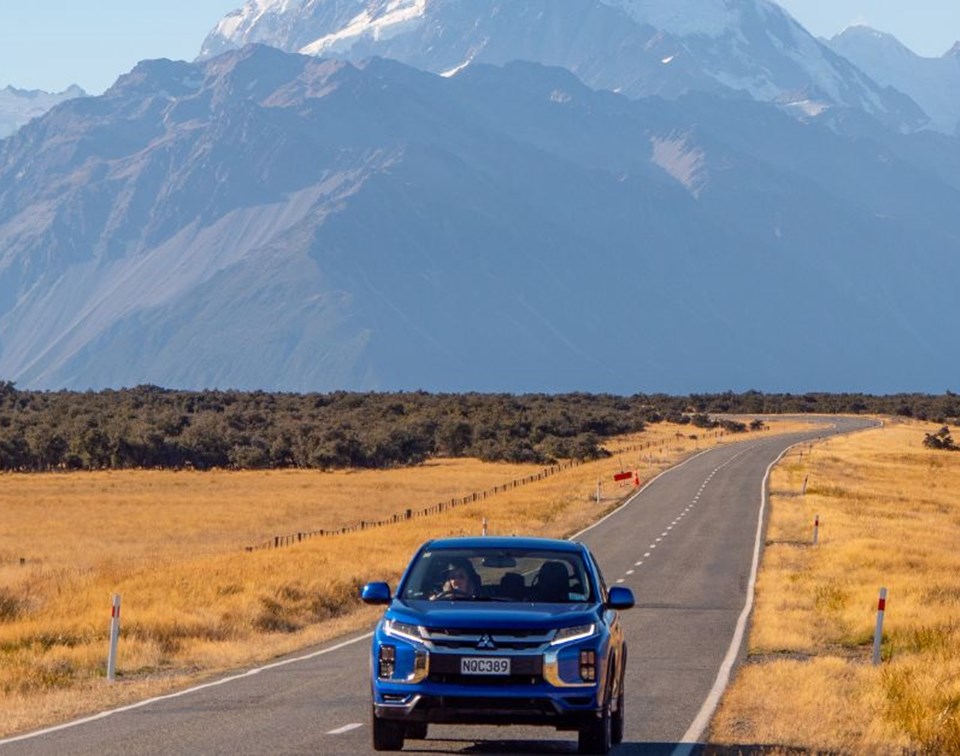 Where is Aoraki/Mount Cook located?
Aoraki/Mount Cook stands tall in the Mackenzie, which is part of the wider Canterbury region, and is located between two international airports.
Queenstown airport (ZQN) is approx. 250kms away or just over a three hour drive from Aoraki/Mount Cook.
Christchurch airport (CHC) is approx. 330kms east or a four hour drive from Aoraki/Mount Cook.
The central location between these two hubs makes Mount Cook village the perfect road trip destination or stopover from Queenstown or Christchurch.
Our tips:
Before embarking on any long journey in New Zealand, we always recommend you check MetService for the latest weather conditions and the New Zealand Transport Agency (NZTA) website to check for weather updates and closures.
There are a few different ways to tackle the journey from Queenstown to Aoraki/Mount Cook, however we've designed a road trip itinerary via the Cromwell route. If you're looking for inspiration and some guidance for your future travels, we hope this article helps.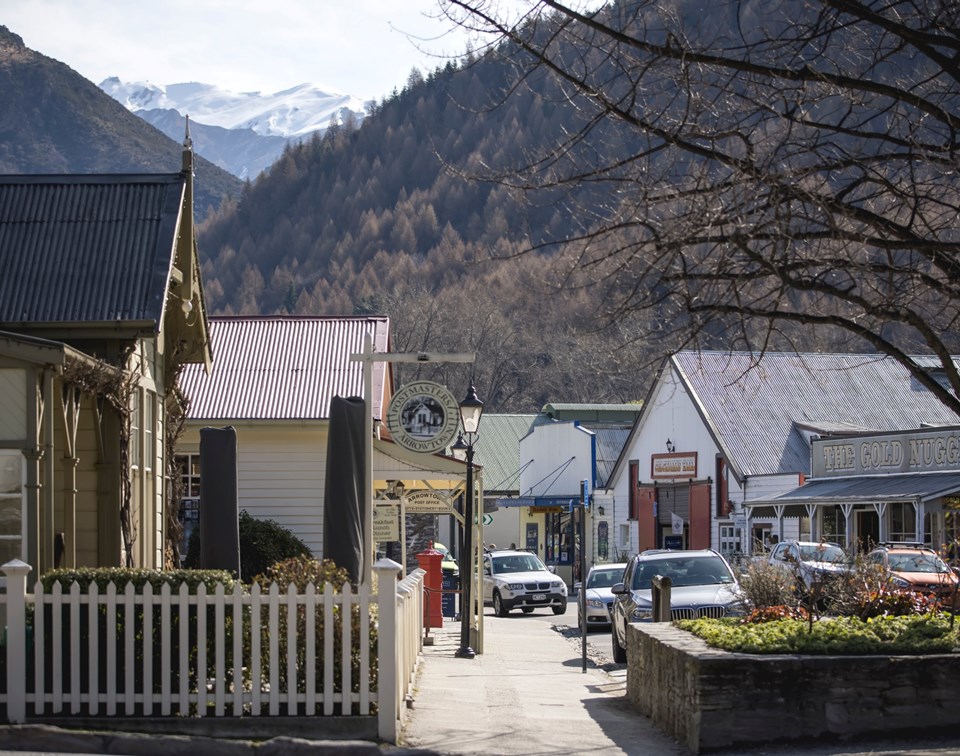 Queenstown to Arrowtown – 20 min drive
Arrowtown is a New Zealand treasure and an absolute 'must do' when visiting Queenstown. A beautiful, small town with a rich and colourful gold mining history, Arrowtown delivers on a wealth of activity and delights everyone who incorporates it into their itinerary. Travel back in time to the gold rush era as you meander along Buckingham Street and enjoy the independent boutiques, bars and restaurants housed in the quaint, heritage buildings. Wander down the Arrow River, try your hand at gold panning, visit the Arrowtown Museum or discover the historic huts in the Chinese settlement. For a small town there's an extraordinary amount to discover.
Arrowtown to Cromwell – 40 min drive
Cromwell's the ideal place to stock up on local produce for the road trip and to stop and indulge in some fresh fruit ice cream. Located on the clear waters of Lake Dunstan, old Cromwell is a short five-minute drive from State Highway 8 and is a charming historic attraction featuring a mix of original and reconstructed buildings. Swot up on Central Otago's pioneering past or relax and enjoy a drink in one of the wonderful restaurants on the waterfront.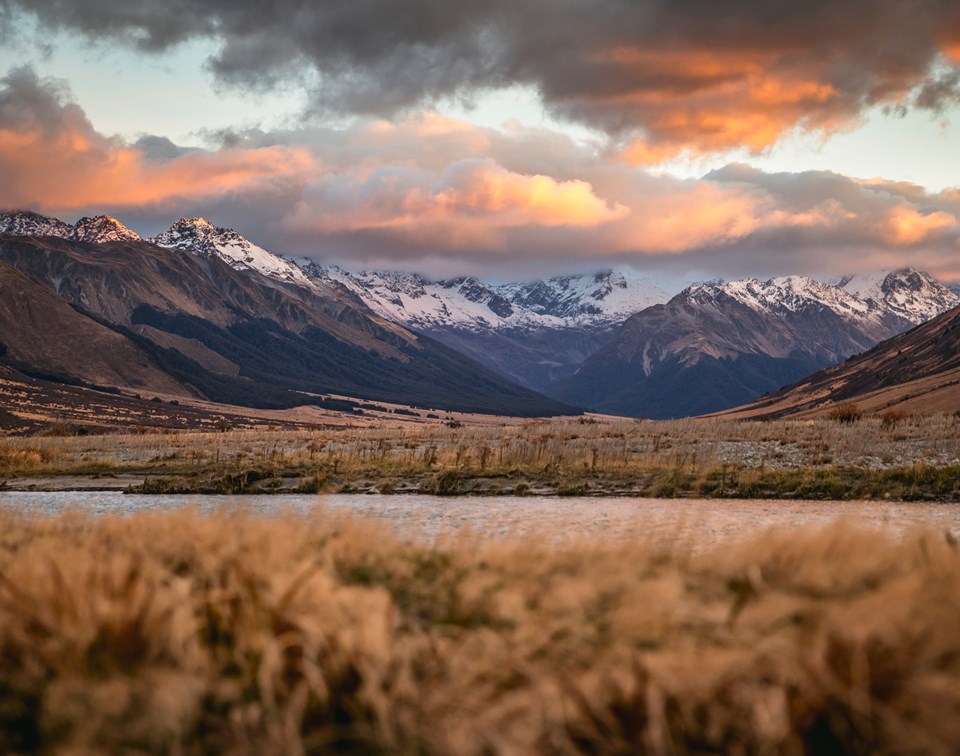 Cromwell to Tarras – 25 min drive
Tarras is a lovely small town with a vibrant farming, horticulture, and viticulture community. Tarras features some fantastic shops including a merino store and a great little eatery called the Tarras Country Café. For those looking for a heart-warming and quirky experience, we recommend a stop off at the House of Shrek, a museum dedicated to a merino sheep that gained Tarras international attention many years ago. Shrek was a merino sheep who dodged shearing for six years by hiding in a cave before being found and shorn on national TV, raising a lot of money for charity along the way. It's actually a great story, and we found this blog to be both informative and highly entertaining.
Tarras to Lindis Pass lookout - approx 25 min drive
The Lindis Pass connects Tarras to Omarama and is a beautiful stretch of road that takes you up to 971m above sea level. The highway is spectacular, although should be approached with caution during cold and wet weather conditions. At the peak of the highway is a lookout, which is located next to the Otago and Canterbury borders, providing a beautiful vista point of the valley beneath. Longslip mountain stands tall at 1491metres and adjacent to the highway is the Lindis Pass conservation area. It's worth noting that you can access a live webcam of the Lindis Pass to check out conditions prior to driving, and that mobile phone coverage is scarce on certain parts of the pass.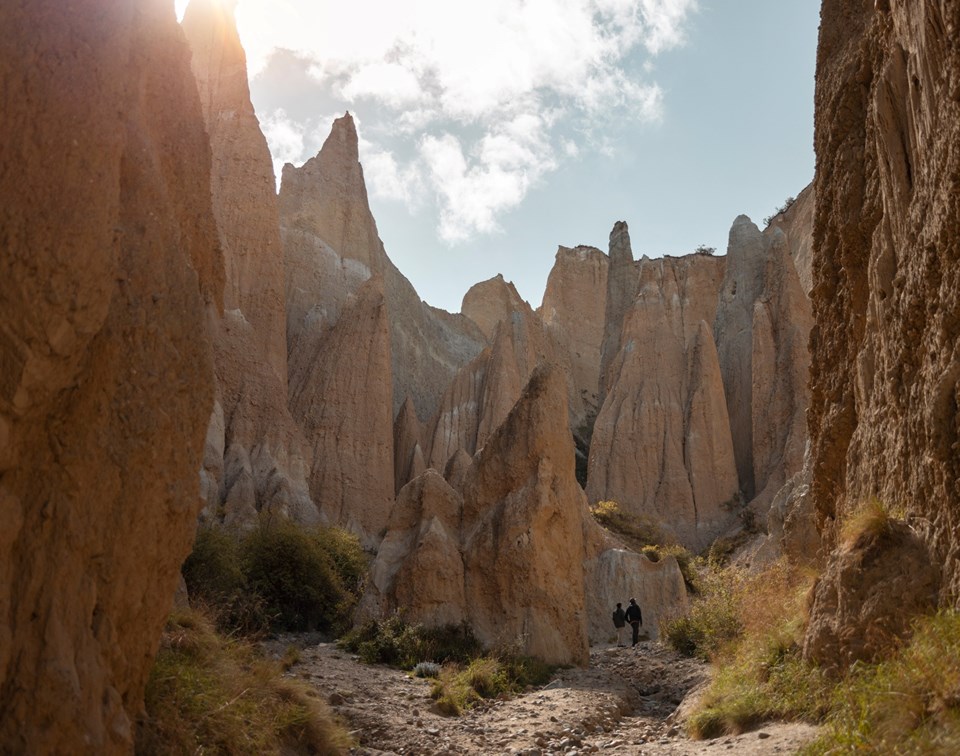 Lindis Pass to Omarama: approx 30 min drive
Rolling into Omarama is a real treat after the long and windy road through Lindis Pass. Maori for 'place of light', Omarama is home to world class gliding, soothing outdoor hot tubs and the Paritea clay cliffs. Located ten kms west of Omarama, the clay cliffs are millions of years old and are tall pinnacles, separated by narrow ravines that look like they belong in a different world. Back in Omarama you can pay a visit to the Wrinkly Ram café and enjoy a sheep shearing show, it's quite an experience!
Omarama to Twizel: 25 min drive
Twizel is an interesting town; it was purpose built in the 60s for workers of the Upper Waitaki hydroelectric scheme and was intended to be demolished in the early 1980s. This obviously didn't happen, and today it's a lively small community. Amongst many other outdoor activities, Twizel's great for fishing enthusiasts, with opportunity to score big on trout in the local canals and lakes. Alternatively, tourists can visit High Country Salmon and take part in their "Catch a Fish" experience, where you're guaranteed to take a juicy salmon home for supper.
The Mount Cook Road - approx 40 min drive
The magic of Aoraki/Mount Cook awaits shortly after you turn off at State Highway 8 onto the Mount Cook Road. The Southern Alps, including Aoraki/Mount Cook are in full view as you skirt around the dazzling turquoise waters of Lake Pukaki, entrancing you as you gaze up at the Ben Ohau mountain range looming over you. The most iconic spot to soak up the view is Peter's lookout, which is 13km into the drive. There are many picturesque spots to pull over en route to the village – just make sure you're safe to do so. The drive to the Hermitage Hotel is approximately 45minutes from the Mount Cook Road turn off and marks the end of the road.
If you're planning on exploring Aoraki/Mount Cook National Park we recommend checking out the Department of Conservation (DOC) website for inspiration and advice, there's also a fantastic information centre located in the village.
The easiest way to organise your Aoraki/Mount Cook road trip from Queenstown is to book our exclusive package, which includes a 3 day vehicle hire with Budget Car Rentals and a 2 night stay at the Hermitage Hotel, with breakfast included. You have the option to extend the length of your car rental and can drop the car back off in Queenstown or choose a depot elsewhere! If you'd like any further information please call our team at (+64) 3435 1809 or email reservations@hermitage.co.nz.