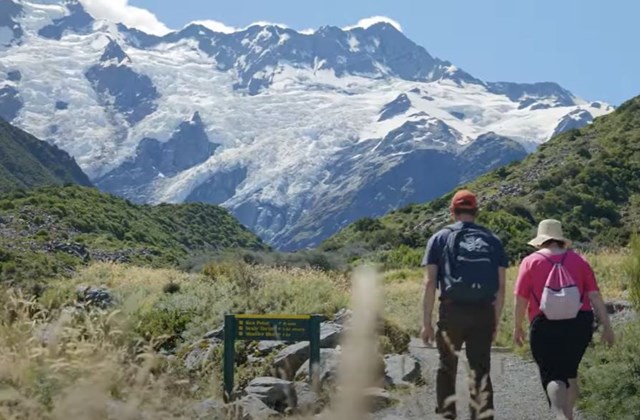 HIKING KEA POINT TRACK
Kea Point is an easy, beautiful walk in Aoraki/Mount Cook and anyone visiting the National Park should put it on their list of things to do. Easily accessible from either the Hermitage Hotel in the middle of Mount Cook Village (max. 2 hours) or the White Horse Hill Campground (max. 1 hour). The Kea Point track is rated easy and is suitable for absolutely everyone, with a slight height gain of 180m over 3km. It's a track that snakes in and out of native bush, has lengths of boardwalk, subalpine grasslands, scrub and gravel before you arrive at your destination point - the Kea Point lookout.
At the lookout point you can sit down and lap up those stunning views of Mount Sefton, The Footstool, Hooker Valley, the Mueller Glacier moraine wall & Mueller Glacial lake and of course, Aoraki/Mount Cook. There are some information boards here, pointing out the different peaks.
The track is open year-round. There is no shelter once on the track, so make sure you check the weather out in advance, look up to the sky to check for rain clouds and pack accordingly.
Our top tips:
The walk is relatively easy, but the views at the end are superb. If you have the luxury of time in Aoraki/Mount Cook choose a clear day for Kea Point.
Walking boots aren't required for this track. Use your own judgement and common sense, but if you haven't brought activewear with you to the region, this could be a track for you to explore.
As the hike leaves directly from the Hermitage, it's the perfect opportunity to grab a takeaway coffee in your keep cup and head off.
Keen to explore another? We recommend the famous Hooker Valley Track! It's an Aoraki/Mount Cook walk not to be missed.