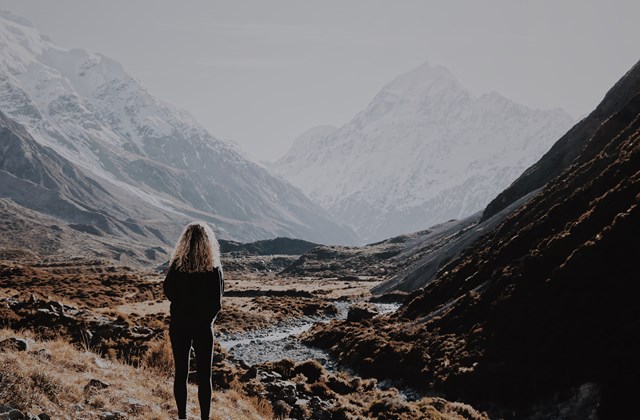 5 things to do in Aoraki/Mount Cook National Park on a rainy day
You may have realised by now that the climate in New Zealand is highly unpredictable. Add in the additional layer of the mountainous region of the Southern Alps and it's no surprise that Aoraki/Mount Cook gets some wacky weather every now and again. We are a forgiving bunch though and realise the interchangeable weather patterns in Aoraki are part of the area's charm. Afterall, there's a reason the interpretation of Aoraki is 'cloud piercer'.
In case your trip coincides with a spot of rain, we've put together a list of five things to do on a rainy day in Aoraki/Mount Cook.
1) Visit the Sir Edmund Hillary Museum
The Sir Edmund Hillary Museum is located in the hotel and is an easy way to spend an afternoon. The museum features an exhibit on the region's climbing history and is aptly named after one of New Zealand's great explorers, Sir Edmund Hillary. This NZ adventurer trained in Aoraki/Mount Cook National Park before conquering Mount Everest alongside Tenzing Norgay in 1953 and the museum tells his story amongst others. In addition, the museum displays a transport exhibition with a handful of interesting vehicles and is a great place to discover the history of the Hermitage Hotel, an iconic piece of New Zealand's history spanning 140 years.
2) Explore the Department of Conservation visitor centre
Pay a visit to the Department of Conservation Visitor Centre, located in the heart of the village. This outstanding centre is staffed by DOC Rangers who call Aoraki home and are incredibly knowledgeable on the area. Rangers will be able to direct you to nearby Heritage sites, educate you on current conservation projects and share local stories, legends and historical snippets regarding flora, fauna and the people of the National Park.
3) Brush up on your astronomy skills with a tour at the Planetarium
Aoraki/Mount Cook is in the heart of the world's largest gold status dark sky reserve, which makes it fantastic for stargazing. However, for those looking to witness the magic of our night sky during daytime hours, the planetarium is your best option. Resident astronomers take you on a journey of the universe, providing interactive commentary and giving you further insight to our galaxy, the stars and planets within. The 360-degree Digital Dome Planetarium features two tours a day, with one tour designed for families.
4) Enjoy a movie or two at the Denis Callesen Theatre
Located in the Hermitage Hotel is the Denison Callesen Theatre, a 126 seat custom-designed theatre that has the ability to play both 2D & 3D films. There's a daily schedule of educational films and documentaries, suitable for the whole family. Films include Our Living Climate, Hillary on Everest & Mountain Rescuers amongst others. The theatre will periodically play other movies during certain times of the year, such as school holidays.
5) Snuggle up with a book in the reading nook
An extensive book collection is featured in the Hermitage Hotel lobby for guests to enjoy. Operating on a trust system, guests can borrow a book for the duration of their stay. There are plenty of comfortable spots to nestle down in around the hotel itself, our favourite is to read on the sofas in the café, with a steaming coffee and a slice of cake! Books vary, from kiwi classics to stories about Aoraki/Mount Cook National Park.
The wonderful thing about Aoraki/Mount Cook National Park is that it's stunning, no matter the weather, and that the mountains look different every single day. If you're looking for more information or have any questions feel free to reach out to our team, or check out our Facebook or Instagram for some inspiration!