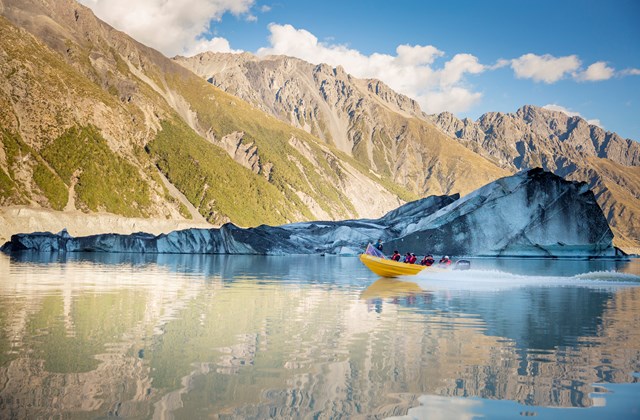 The ultimate ice adventure
Feel small
Adults $129 and Children $65 per person
Only Glacial Boat tour in NZ
25 Minute Alpine Walk to Lake
reservations@hermitage.co.nz
Glacier Explorers available from 01st September
Imagine a boat tour like none other. Surrounded by snow capped alps, you will be expertly guided thru the ice age as you view the gigantic Tasman Glacier Ice wall, icebergs and the chance to embrace mother natures legacy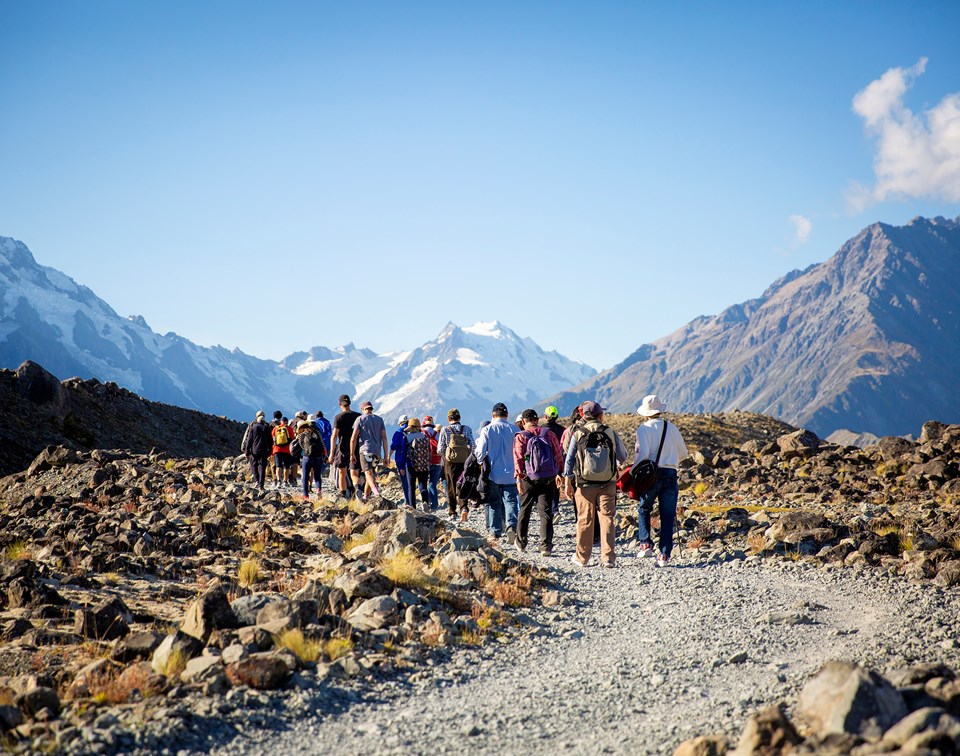 The only tour of its kind in New Zealand and one of the only accessible glacial lakes containing icebergs in the world.
An amazing encounter with New Zealand's largest glacier, the Tasman Glacier. Explore and learn about the ever-changing glacial landscape as you journey across the terminal lake. Icebergs of every shape and size periodically tear away from the face of the glacier into the rapidly growing lake. Feel small as the lateral moraines rear up almost 200m, reminding us of the scale and greatness that the glacier has reached in previous times.

With the effects of global warming and other climatic processes taking their toll on New Zealand glaciers, their retreat is imminent. Now approximately 27km long and 600m deep, the Tasman Glacier is melting and calving at an exponentially increasing rate. In recent years the Tasman Glacier has changed from a 'melting' to a 'calving and melting' terminus, resulting in a terminal lake that is rapidly increasing in size.
An incredible experience for everyone.
Check in for this activity is at the Activities counter on the ground floor of the Hermitage Hotel. The bus will take you on a pleasant trip to the Tasman Valley, followed by a 25 minute alpine walk through the National Park. Then board your MAC boat, and enjoy the ever changing face of the Tasman Glacier terminal lake and its icebergs. Allow approx 2.5 hours total per trip - (60 minutes on the lake).
Glacier Explorers operates from the start of September to the end of May. The glacier lake freezes over winter so the start of the season is subject to the lake thawing.
Season and Departures
Daily departures are available throughout the season (subject to appropriate weather, daylight and lake conditions)
What is Supplied:
Return transport
Life jackets
Experienced guides
An unforgettable experience
What to Bring:
An extra warm layer of clothing
Camera
Sunblock & sunglasses
Wet weather gear
Suitable walking shoes
Other Important Information:
Check in at the Activities Desk is required 30 minutes before the scheduled departure time.
Due to high demand, we recommend that you pre-book this activity to avoid disappointment.
Weather Conditions:
Glacier Explorers operates in a unique, alpine environment. In the event of unfavourable weather conditions the tour may be cancelled. This decision is made by the Head Guide just before each trip based on weather and lake conditions. An alternative trip time or full refund is offered under such circumstances.
Please be aware that icebergs on the lake occur as a result of glacial calving activity. As this is a natural occurrence, at times the glacier is not as active meaning the quantity and size of icebergs on the lake vary. Icebergs, calvings and rollovers cannot be guaranteed, but are a wonderful bonus for passengers lucky enough to experience them.
Important Note:
Please ensure when booking that all individuals joining the Glacier Explorers trip can walk 1.5km in 25 minutes to ensure the trip can run to schedule.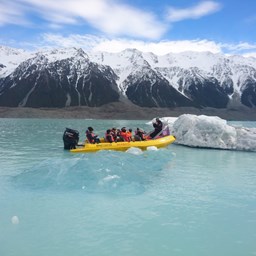 Adnan
"We were guided by Amy who was wonderful and witty with great sense of humor. She kept everyone involved in the commentary with lots of information and interactive tour.. we loved every moment of the tour and uniqueness of the lake being newly created from melted glacier. Must do activity in Mount cook trip"
Sue
"What a fabulous trip. Icebergs, sun, fun, informative and value for money!"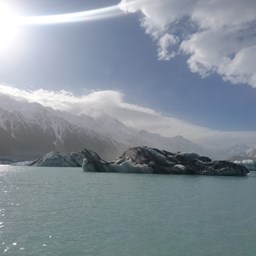 Mike
"Top notch professional operation. Something to experience if you are visiting Mt. Cook!"