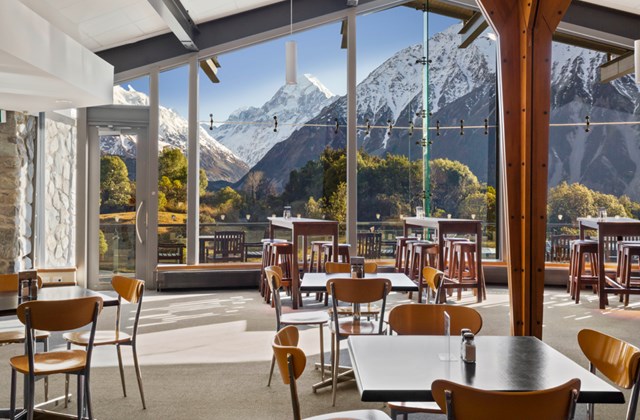 The Sir Edmund Hillary Cafe & Bar
Our casual self service cafe offers a great range of items for you to enjoy on the sun drenched balcony or pack up and take on a walk around the National Park.
Dine in one of New Zealand most scenic restaurants.
Our menu is a mix of fresh and tasty kiwi favourites, and is catered to all dietary preferences. Come and 
enjoy arguably the most impressive views from any cafe in New Zealand.
Please note that menu items and prices are subject to change and are based upon availability.
New menu launching Monday 11th July.
Eggs Benedict
poached free range eggs and silky hollandaise sauce on freshly grilled muffins
add bacon or smoked salmon or avocado $4 each
Giant Waffles
with a choice of crispy back bacon, maple syrup and pecans or yoghurt and blueberry compote or chocolate sauce and whipped cream
Green Pancakes
eggs, feta, avocado, spring onion, coriander yoghurt and harissa
Over the Top Nachos V, GF
with chilli Philadelphia cheese sauce, avocado, sour cream and BBQ beans
Hand-Stretched Garlic Flatbread V
of rosemary and Marlborough sea salt, served with hummus
Hermitage Signature Knock the Bugger Off Burger
prime 220g beef patty, melted cheddar, slow braised onions and Sir Edmund's sauce with rosemary fries
The Sherpa Burger V
green lentil vegetable patty, spiced garlic mayo and fresh onion rings with rosemary fries
Cheesy Steak Sandwich
cheddar béchamel, roasted capsicum, mustard, baby gem lettuce in a toasted roll with rosemary fries
Pulled BBQ Chicken Sandwich  
bacon, BBQ sauce, dill pickles, crunchy slaw in a toasted bun with rosemary fries
The Margherita V
fresh Wairiri buffalo mozzarella, roasted vine tomatoes, fresh rocket, basil pesto and grated parmesan cheese
The Alpine Brunch Pizza
of grilled bacon, sausage, eggs, mushrooms and Hermitage smoked beans
Proper Pepperoni 
with fennel salami, paprika salami, mozzarella and oregano
Sweet Roasted Pumpkin V
cranberry, and Oamaru Windsor blue topped with roasted walnuts and crispy kale
Sides - Sir Edmund's Caesar Salad | Rosemary Fries
KIDS MENU
Grilled Chicken Skewers with hummus, carrot batons, slaw
Creamy Mac n' Cheese
100g Cheeseburger with fries
Hand Stretched Margherita Pizza