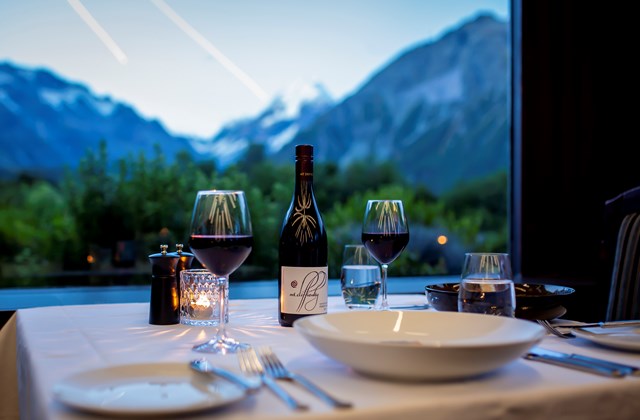 Panorama Room
A stunning intimate dining experience, offering a delicious a la carte menu, with beautiful Aoraki views.
Experience old world charm with spectacular views.
Join us in the Panorama Room for an a la carte dinner experience, delicious New Zealand cuisine paired with premium views of Aoraki Mt Cook.
Please note that the Panorama Room is closed from 23rd - 25th July (inclusive), and 29th July. We apologise for any inconvenience caused.
Our menu is an ever evolving contemporary blend of locally sourced produce, and is catered to all dietary preferences. Come and 
enjoy arguably the most impressive views from any restaurant in New Zealand. Please note that menu items and prices are subject to change and are based upon availability. However, we hope this gives you a good taste of what our Panorama Room experience has to offer.
Entree
Venison Rib gf
Smoked & braised venison from Mt River Farms, blue cheese cream, crispy fried polenta cake & a mulled poached pear
$28
Suggested wine: Hawkshead Pinot Noir, Central Otago, 2019 G | $15
Mt Cook Alpine Salmon Chowder gf
Surrounding a smoked salmon mousse with corn crumble topping
$24
Suggested wine: Wither Hills Chardonnay, Wairau Valley, 2019 G | $12
Slow Cooked Pork Belly
Layered with crisp tortilla, roasted corn & citrus salsa & a thick chive creme
$24
Suggested wine: Hawkshead Pinot Gris, Central Otago, 2020 G | $14
Green Pea Custard gf, v
Carefully selected spring vegetables prepared pickled & raw, wholegrain mustard dressing & a homemade full cream ricotta
$20
Suggested wine: Lawson's Dry Hills Pinot Gris, Blenheim, 2019 G | $12
Seared Japanese Hokkaido King Scallops gf
Kumara puree, fried chorizo finished with paprika oil & fresh picked parsley
$32
Suggested wine: Akarua Brut NV, Central Otago G | $12
Main
Te Mana Lamb Backstrap gf, df
Buttered baby potatoes & oven roasted shallots, tender green beans wrapped in prosciutto finished with a celery & lemon pan jus
$46
Suggested wine: Huntaway Syrah, Hawke's Bay, 2019 G | $12
Vegetarian Risotto v, gf
Slow roasted portobello mushrooms, black garlic, and balsamic cherry tomatoes finished with parmesan crisps & truffled oil
$32
Suggested wine: Te Whare Ra Sauvignon Blanc, Marlborough, 2019 G | $15
Mt River Venison Loin
Crispy coated potato croquette, slow braised buttered cabbage & a rich leek cream
$44
Suggested wine: Wee Angus Merlot, Central Victoria, 2018 G | $15
Mt Cook Alpine Salmon
Crisp skin salmon fillet, pearl couscous with globe artichoke & semi dried tomato, salad of pickled fennel & leek and a chive cream reduction
$38
Suggested wine: Tony Bish Fat and Sassy Chardonnay, Hawke's Bay, 2019 G | $14
200g Premium Fillet of Grass-Fed Beef gf, df
Garlic confit potatoes with pan fried sesame seasonal greens, black garlic & a rich port wine jus topped with kumara crisps 
$46
Suggested wine: Angus the Bull Cabernet Sauvignon, Central Victoria, 2017 G | $15
Additional Sides
Steamed seasonal vegetables gf, df, vegan
Buttered baby potatoes gf, v
Seasonal salad, honey mustard dressing gf, df, v
$8
Dessert
Whittaker's Chocolate Layer gf
Chocolate biscuit, 70% dark ganache, milk chocolate mousse & a hot toddy sauce   
$18
Whitestone's Five Forks Cheddar
A cow & goat milk blend aged for at least 12 months, served with poppyseed crackers, Central Otago fruit paste, & Ettrick honeycomb
$22
Crème Brulee 
A classic rich vanilla custard with crunchy caramel topping served with a cranberry & crystallized ginger biscotti
$18
Salted Caramel Macaron gf
Caramelised smoked macadamia nuts, Whittaker's milk chocolate curd
$16
Cheesecake Trio Plate
New York baked, Greek & Japanese style, lemon curd, mandarin gel, hokey pokey & honeycomb
$16
Suggested wines: select from Taylor's Ruby Port G | $13, The Ned Noble Sauvignon Blanc G | $12.5
or Emerson's London Porter B | $14
Children's Evening Menu (under 14)
Main
Beef or Chicken Slider 
Toasted bun, cheese & slaw served with fries & tomato sauce
Fish 'n Chips
Today's fish tempura battered, fresh salad, lemon, tartare with chunky fries
Penne Pasta
Tossed in Hermitage special 5+ a day vegetable tomato sauce & finished with fresh mozzarella
$12.50 each
Dessert   
Ice Cream Sundae
Warm chocolate fudge cake on vanilla ice cream with hot chocolate sauce
Bugs n'Mud
Creamy chocolate mousse cup with hidden 'creatures'
$7 each
---
Vegan Menu
Entrée
Grilled Vegetables gf
Chargrilled aubergine, courgetti & capsicum served with cashew 'butter' spread, toasted super grains & fresh herbs, finished with Longview extra virgin olive oil
$16
Suggested wine: Hawkshead Pinot Gris, Central Otago, 2020 G | $14 
Main
Wild Mushroom Risotto
Slow roasted portobello mushrooms, black garlic & slow roasted cherry tomatoes finished with soy reduction & truffled oil
$28
Suggested wine: Te Whare Ra Sauvignon Blanc, Marlborough, 2019 G | $15
Dessert
 Trio of Waitaki Orchard Sorbets gf
Peach, apricot, plum sorbets served with compressed fruits
$12
Suggested wine: Akarua Brut NV, Central Otago G | $12