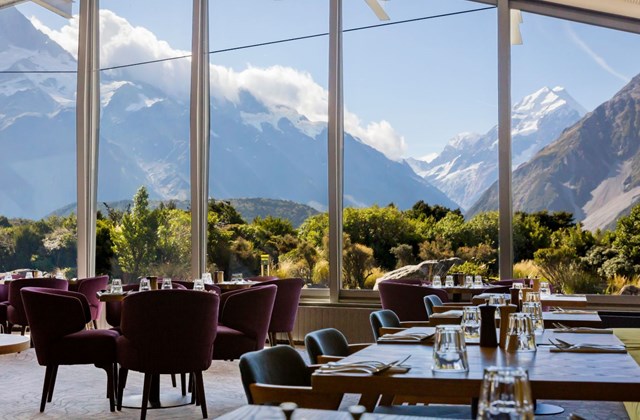 The Alpine Dining Room
Experience dining in front of New Zealand's highest mountain, Aoraki/Mount Cook
Dine in one of New Zealand's most scenic restaurants.
Using the freshest, local ingredients to produce seasonal menus rich in flavour and style with stunning alpine mountain vistas to match.
Our menu is an ever evolving contemporary blend of locally sourced produce, and is catered to all dietary preferences. Come and enjoy arguably the most impressive views from any restaurant in New Zealand. Please note that menu items are subject to change and are based upon availability. However, we hope this gives you a good taste of what our buffet experience has to offer.
01 October - 30 September 2022
Adults $55pp | Children (4-14 years) $19.50pp
Buffet Dinner at the Alpine Restaurant
Antipasti & Seafood
Grilled Mediterranean vege, aged balsamic & Longview olive oil, pickled vegetables
Whitestone cheese
Farmhouse brie, Moreaki blue, Livingstone Gold aged, crackers, Barkers chutneys
Charcuterie
Pork & fennel salami, spiced beef salami, peppered pastrami
Mt Cook & Alpine Smokehouse Salmon
Gravlax, Hot smoked, cold smoked
Served on ice
Nelson green lip mussels, Queen scallops, tiger prawns
Plant Derived
Freshly made soup with local and in house-baked breads
Garden Mixed Salad
Rainbow slaw
Greek Salad
Leek, spinach, mushroom & pine nut Wellington
Pumpkin & Feta lasagne
Honey roasted butternut pumpkin
Spiced rice with raisins & almonds
vegetable Curry (Vegan, GF)
Roasted root vegetables (Vegan, GF)
Cauliflower gratin
 Steamed Vegetables
Meats from the flame
Marinated chicken thigh (DF,GF)
BBQ Rub Pork Ribs
Canterbury beef striploin steaks (DF,GF)
Oven roasted Mt Cook Salmon
The Trimmings
Horseradish, Yorkshire puddings, & 'lumpy' gravy, apple sauce, mint jelly, port wine jus
Pastry and Dessert
Black forest cups
Fruit cheesecake
Lemon meringue tartlets (GF)
Chefs' gateaux and cakes
Mini fruit pavlova (GF)
Sticky date pudding with caramel sauce
Soft serve ice cream with sauces (GF) and candies
Daily Petit Fours from our pastry chef