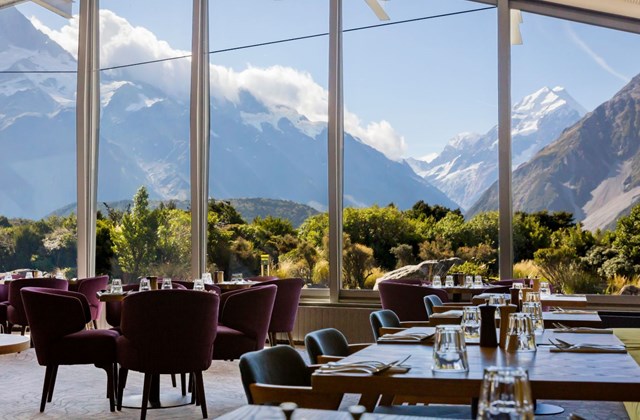 The Alpine Dining Room
Experience an a la carte restaurant with stunning views of Aoraki/Mount Cook
Dine in one of New Zealand's most scenic restaurants.
Using the freshest, local ingredients to produce seasonal menus rich in flavour and style with stunning alpine mountain vistas to match.
Open 7 days from 5.30pm - 9.00pm
Our menu is an ever evolving contemporary blend of locally sourced produce. Catering to all dietary preferences. Come and 
enjoy arguably the most impressive views from any restaurant in New Zealand.
Choose on the night from a 2 course or 3 course set menu.
2 Course: $57pp     3 Course : $72pp
MENU
Entree 
Mt Cook Salmon Mousse  
Corn chowder, corn crumble  
Slow Cooked Pork Belly 
Tortilla, roasted corn salsa, chive creme 
Roasted Baby Winter Vegetables gf 
Hepi (sheep) cheese, garlic & herb gremolata 
Seared Scallops  
Hangi kumara, chorizo, peas 
Vension Rib 
Smoked & braised, blue cheese polenta cake 
Main 
Wakanui Grain-fed Fillet (250g) gf / df  
Confit potato, sesame winter greens, black garlic, port wine jus, kumara crisps  
Mount Cook Alpine Salmon (200g) gf 
Crisp skin local salmon, spinach, toasted grains, roasted fennel & yam, citrus butter velouté  
Merino Lamb Backstrap (200g) gf / df 
Buttered baby potatoes, maple & bacon brussel sprouts, herb & roasted garlic jus 
Vegetarian Risotto gf / v  
Slow roasted portobello mushrooms, black garlic, crisp parmesan, balsamic tomatoes  
Duck Breast 
Wild rice, watercress, kumara crema, roast berry sauce 
Mt River Venison 
Best served rare, potato croquette, mulled cabbage, leek cream 
Additional Sides $7.50 
Steamed seasonal vegetables gf / df / v 
Buttered baby potatoes gf / v 
Seasonal salad, honey mustard dressing gf / df / v 
Dessert 
Whittaker's Chocolate Layer gf  
Chocolate biscuit, 70% dark ganache, milk chocolate mousse, hot toddy sauce   
Apple Crumble 
12-hour baked apples, nut granola biscuit, vanilla bean ice cream 
Crème Brulee  
Cranberry & crystallized ginger biscotti 
Cheesecake Trio plate 
New York baked, Greek & Japanese style, lemon curd, mandarin gel, hokey pokey & honeycomb 
Whittaker's Milk Chocolate Cream 
Passionfruit jelly, cornflake & coconut clusters, compressed tropical fruits. 
KIDS MENU
(under 14)

Main   $16.50
Grilled Steak    gf / df
Chunky fries, fresh steamed greens, beef jus
Fish 'n Chips      df
Today's fish tempura battered, fresh salad, lemon, tartare, chunky fries
Crispy Chicken Schnitzel
Chunky fries, fresh steamed vegetables, tomato sauce 
Dessert   $9.50
    Apple Crumble    
Apple with nut crumble, whipped cream
Ice cream Sundae
Chocolate fudge cake, vanilla ice cream, hot chocolate sauce
Bugs 'n' Mud  gf
Chocolate mousse with hidden 'creatures'